Place: Castrette di Villorba (TV), Via della Cartiera
Authors: Tobia e Afra Scarpa
Chronology: 1985 | 2011
Design of industrial space, transformation of former industrial space
Itinerary:  An hard-working country
Use: Logistics coordination center, studios and offices, former industrial complex
Benetton Group is a Treviso fashion company, leader in the clothing and related communication sector, present in the main markets with a sales network of about 5,000 stores. The former industrial complex, located in a 400,000 square meter area in the village of Castrette (TV), is divided into several large buildings. It includes the former twin establishments of the "jeans and outerwear division" and the former structure of the "wool division", both designed by the couple Tobia and Afra Scarpa. Over the years, various modifications and changes in its intended use led the same designers to reinterpret the building complex's functionality several times. The design is bold and brilliant, both architecturally and structurally.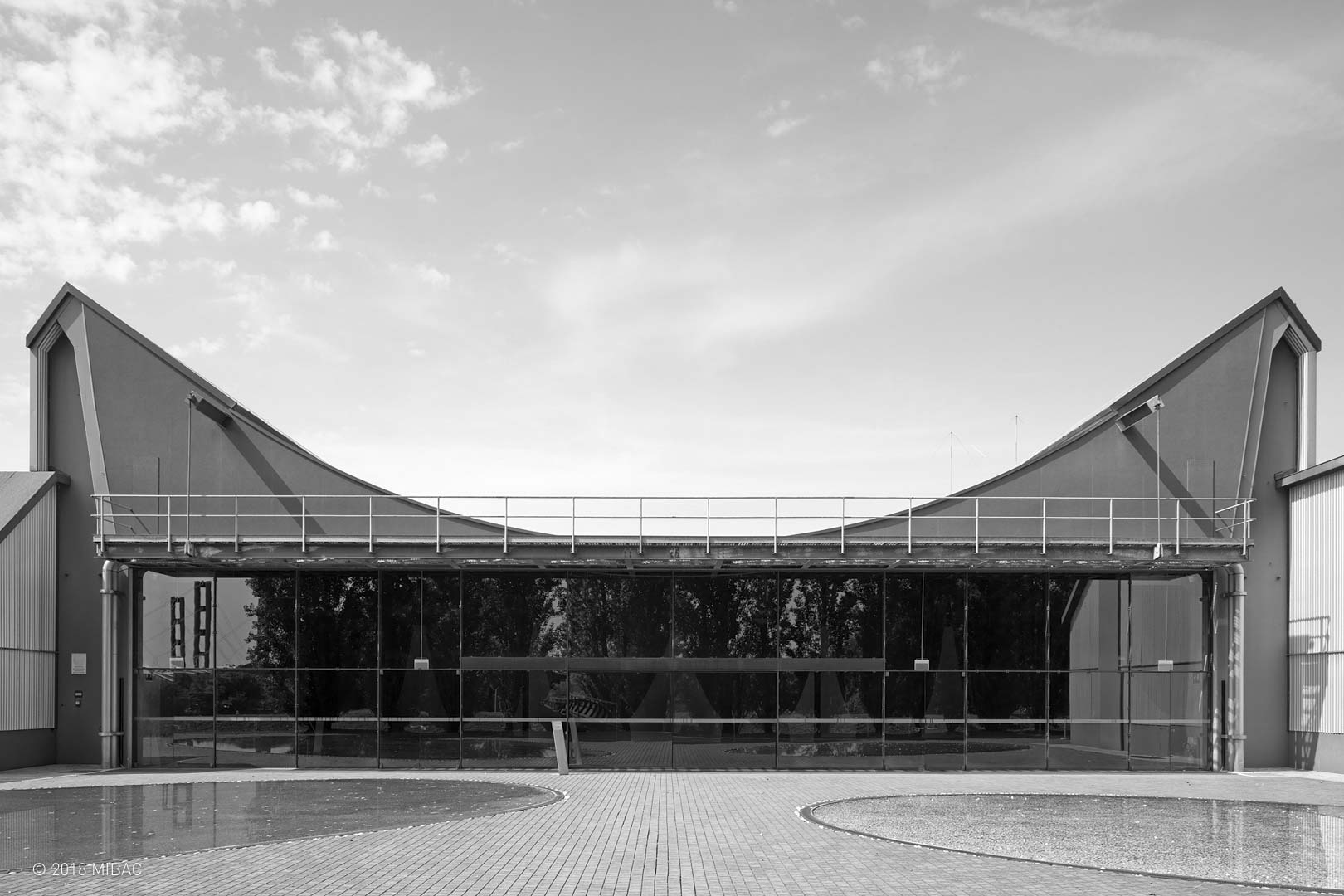 The former "wool division" design was created to meet the need for large free surfaces: the solution is a large steel chain system supported by reinforced concrete pillars, operating in compression, creating an uninterrupted space. Within it, the various means of transport can move freely to perform the manufacturing functions. Scarpa was recently commissioned the redraft of the project's interior spaces into the Benetton Studios. The multifunctional spaces are intended for presenting collections and events. Offices are also located here, along with areas for prototyping new concepts for stores around the world. It also holds the photographic studios and the Benetton archive, which collects and promotes the company heritage of over fifty years. The project was accompanied by an arrangement of the external space with two elliptical water tanks and a steel pedestrian walkway.
This architecture of serial elements with clear shapes characterizes the elevations' rhythmic score, where functional needs and spatial solutions express a skillful use of shapes and materials.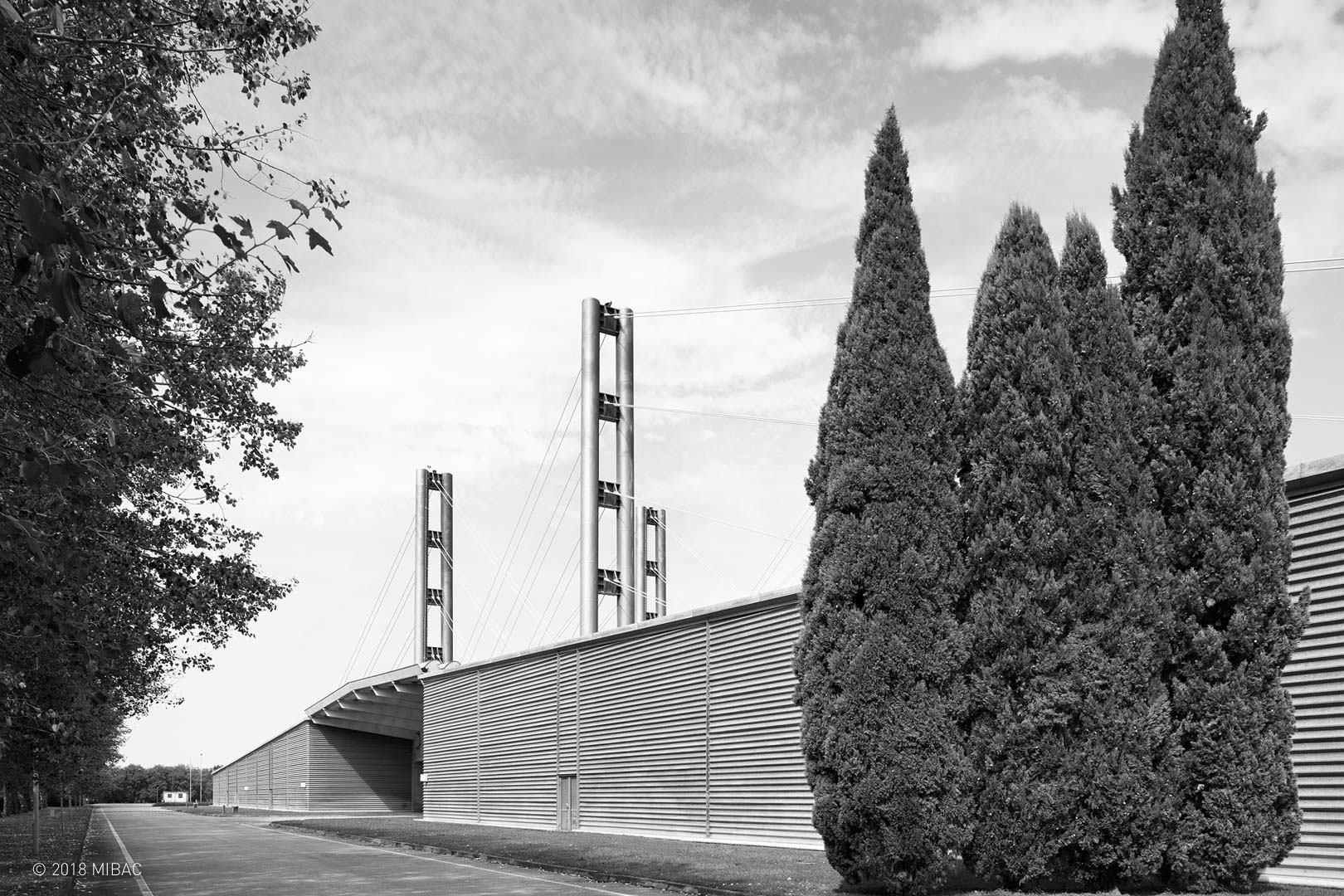 The former "jeans and outerwear division" are a pair of industrial buildings consisting of seven three-dimensional "macromodules" forming a rectangular plant of 25×205 m. That is an area of over 5,200 m2 for each of the modules. A 40 m wide internal road allows rapid communication between the building and the outside. It also provides access among the various modules for easy transport of goods between the different parts of the production sectors.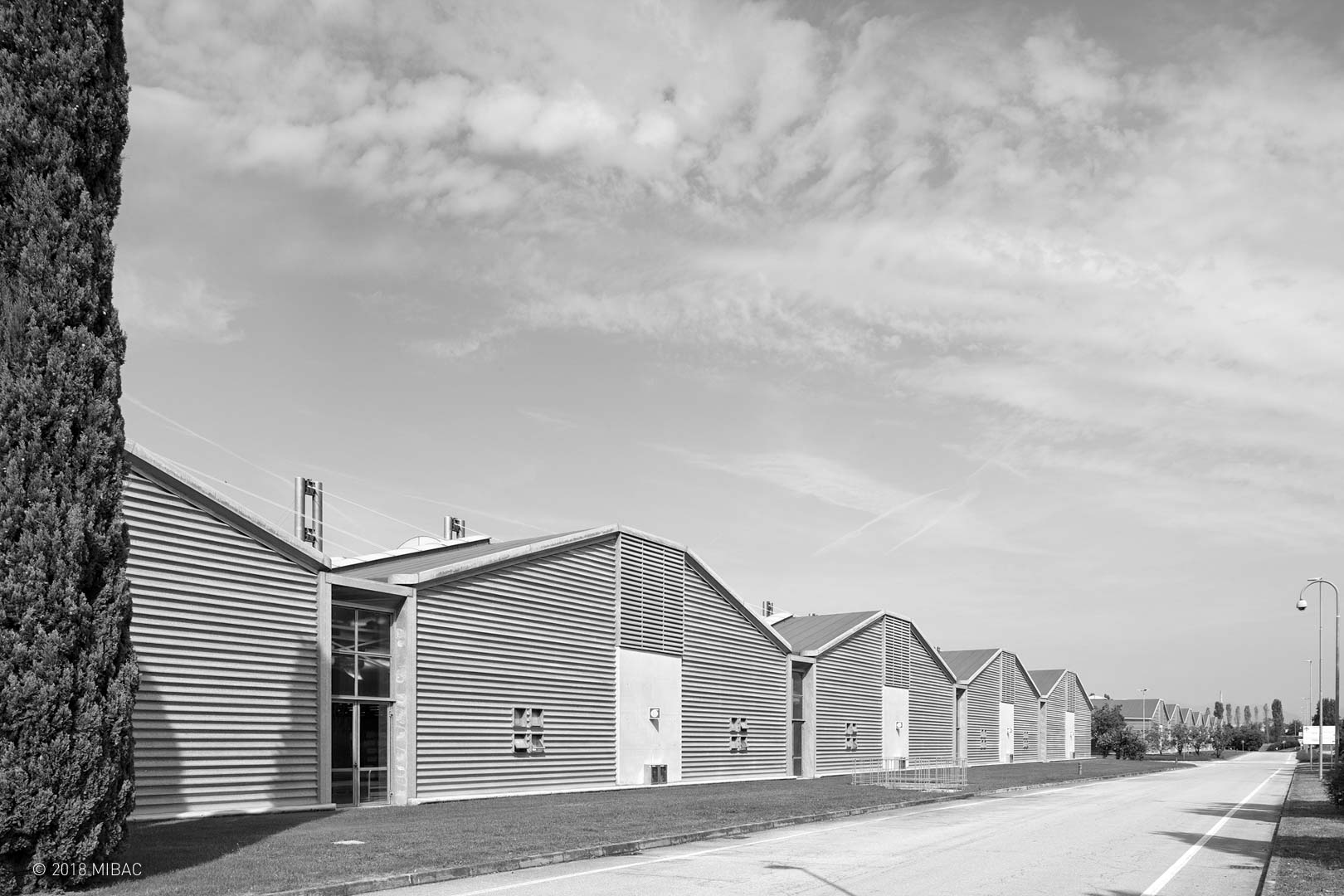 The "macromodules" profile is characterized by symmetrical and essential elements. Inflections range between a clever and distinct design and the reassuring return to the Veneto rolling landscape.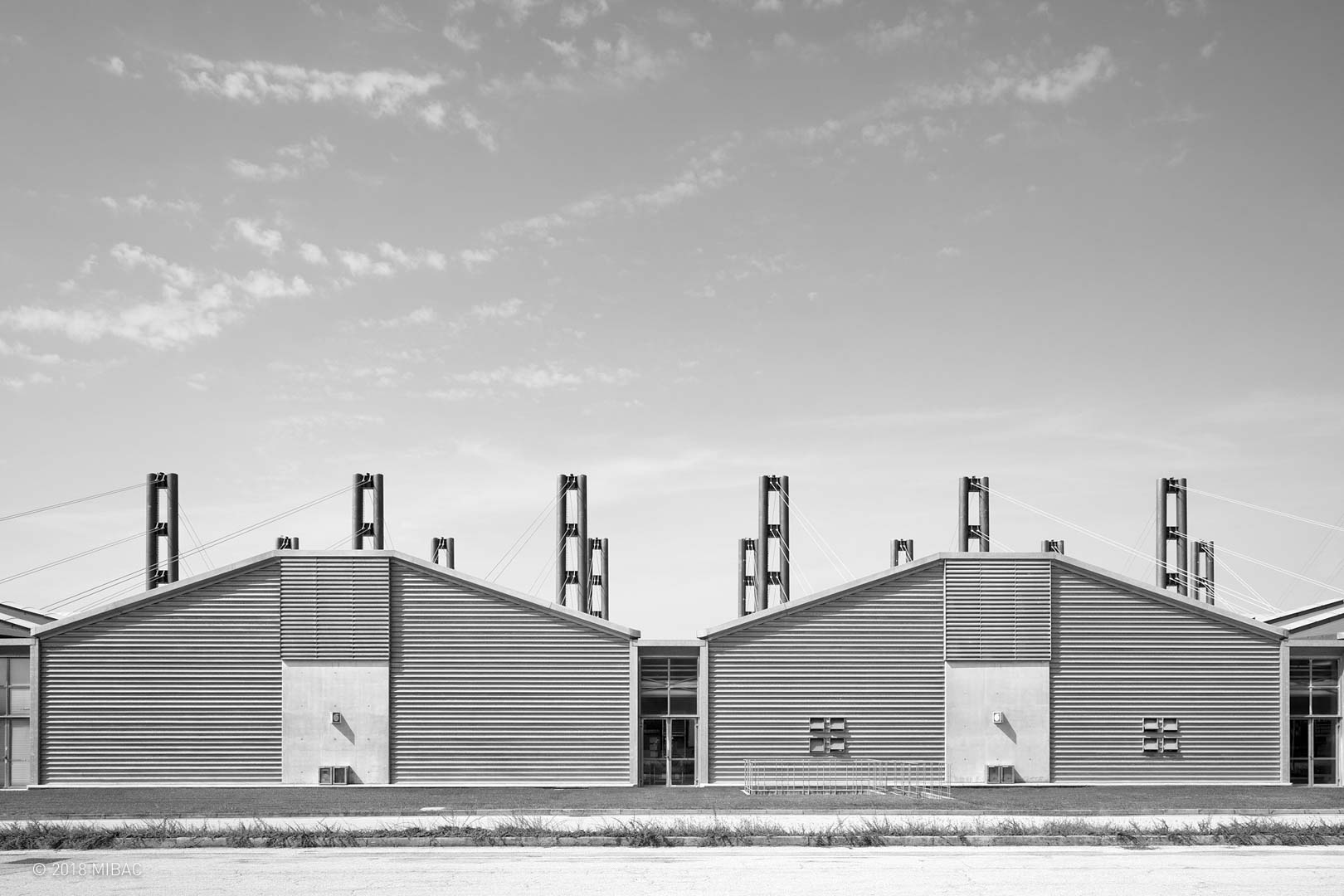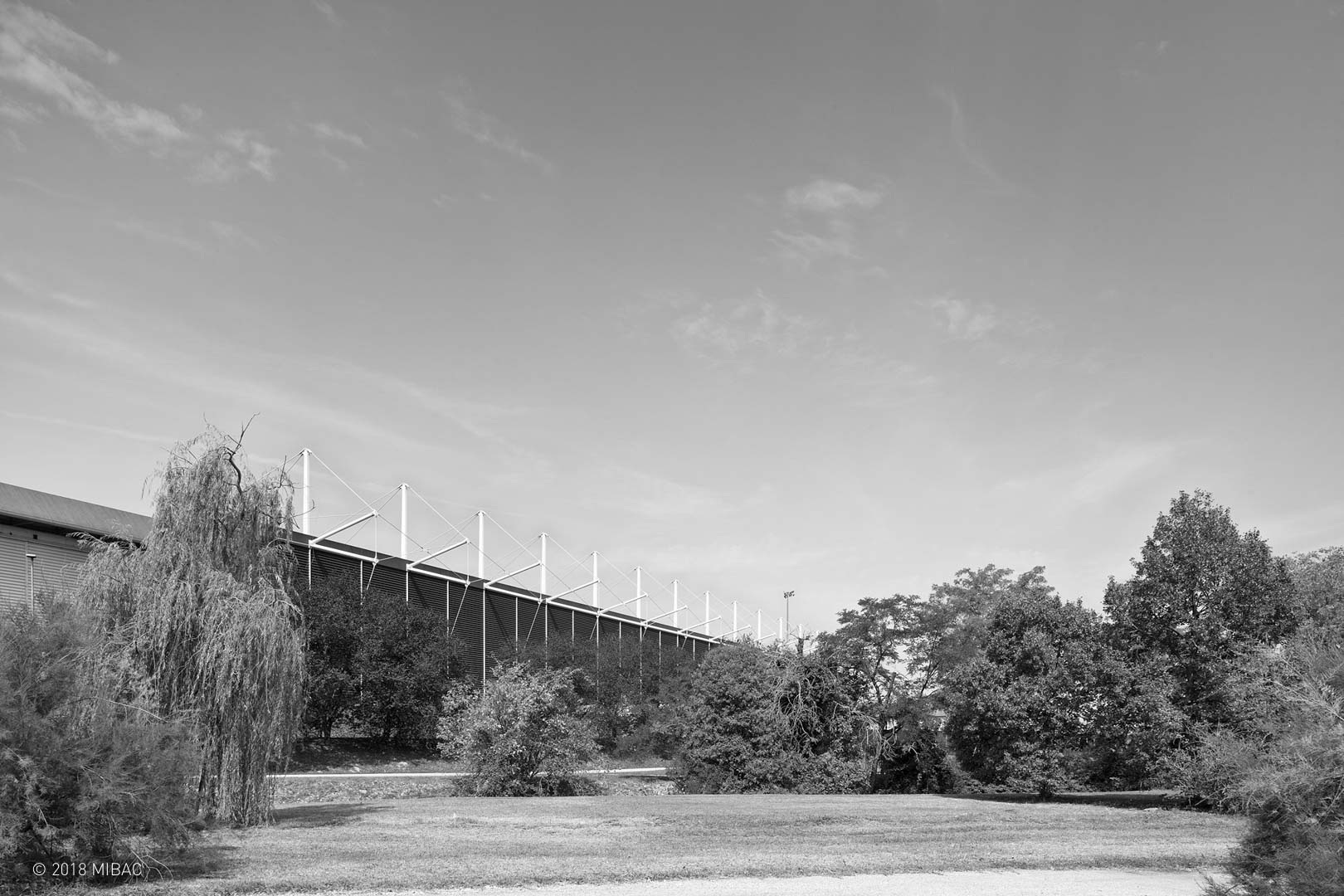 The iconic 25-meter-high "antennas" are elevated 9 meters above the ground, situated on the heads of the central frame's pillars, set 39 meters apart. From these, the roof is supported in a static scheme typical of civil engineering of bridges. Resting on this large roof are adjacent reinforced concrete tiles and rows of skylights. This solution arises from a double desire. One is to solve the problem of fluid circulation with the least possible constraints. The other is to characterize the design as an architectural landmark.
Text by Manuela Raitano
Photo di Marco Introini