Place: Taranto, via Magna Grecia
Authors: Gio Ponti
Chronology: 1964 | 1970
Itinerary:  Architecture for the community
Use: Churches and facilities
The new cathedral was born from the need to create a religious center near the city's new expansion axis, and to include a school, an auditorium and some houses. The houses have never been built. Ponti wanted it to be modern and monumental, but linked to the Apulian religious tradition as well. The reference to modernity is entrusted to white exposed concrete; the monumentality is entrusted to its dimensions and anticipation by a stairway and a pool of water in which its sacred image is reflected. The link with the local tradition comes from the use of the color white.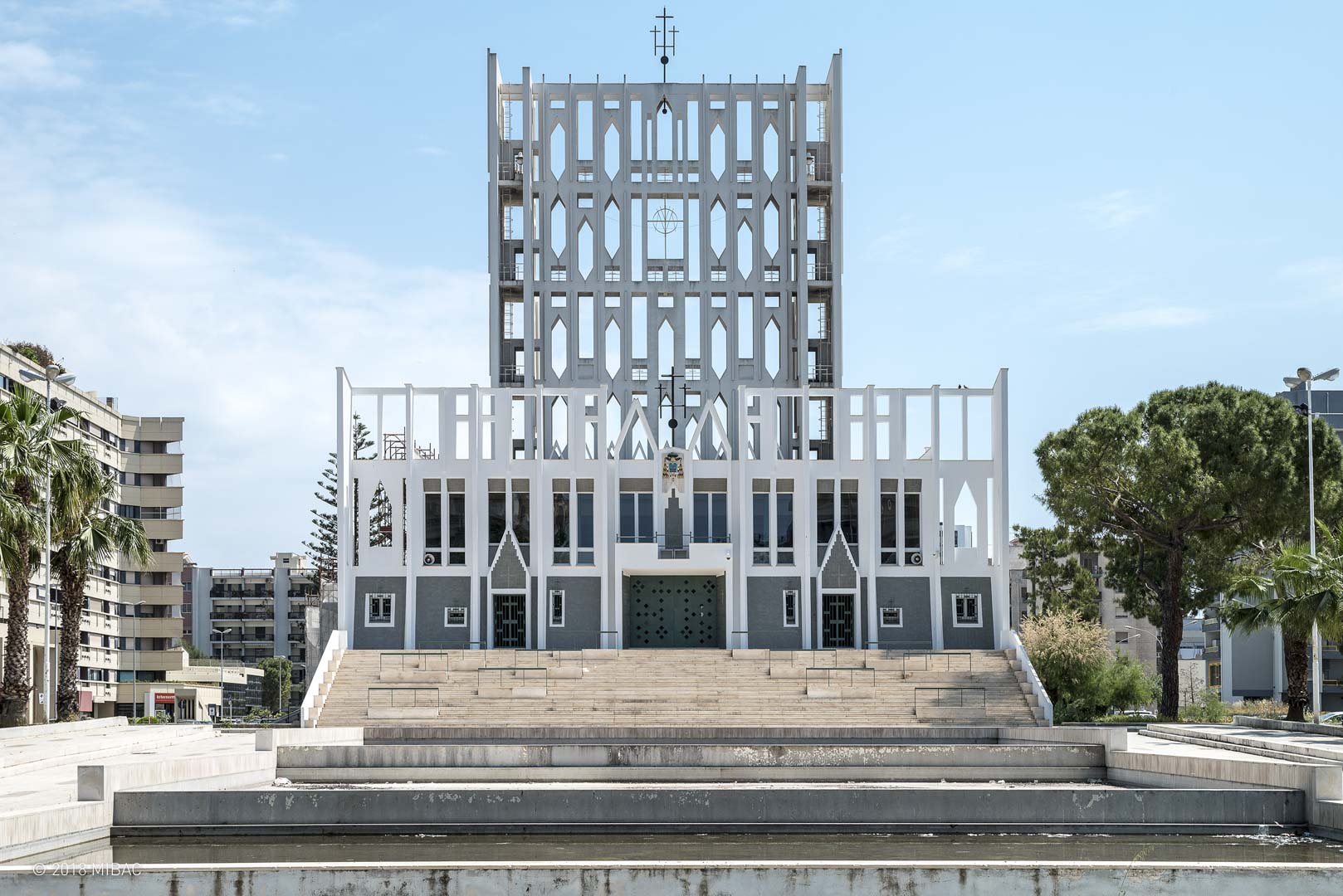 To give the church an imposing character, Ponti articulated it in two parts, like the ancient Italian cathedrals: the nave is contained in a low structure while the tower is soaring in the sky. This tower is defined by two reinforced concrete walls, 41 meters high and 22 wide, pierced by eighty hexagonal and rectangular windows, embedded on the sides in two bell towers.
Ponti reinterpreted the simplicity of the Apulian Romanesque churches using a simple system and the predominance of a single material both outside and inside: white exposed concrete that manifests itself mainly on the lateral external walls drilled only by small square holes.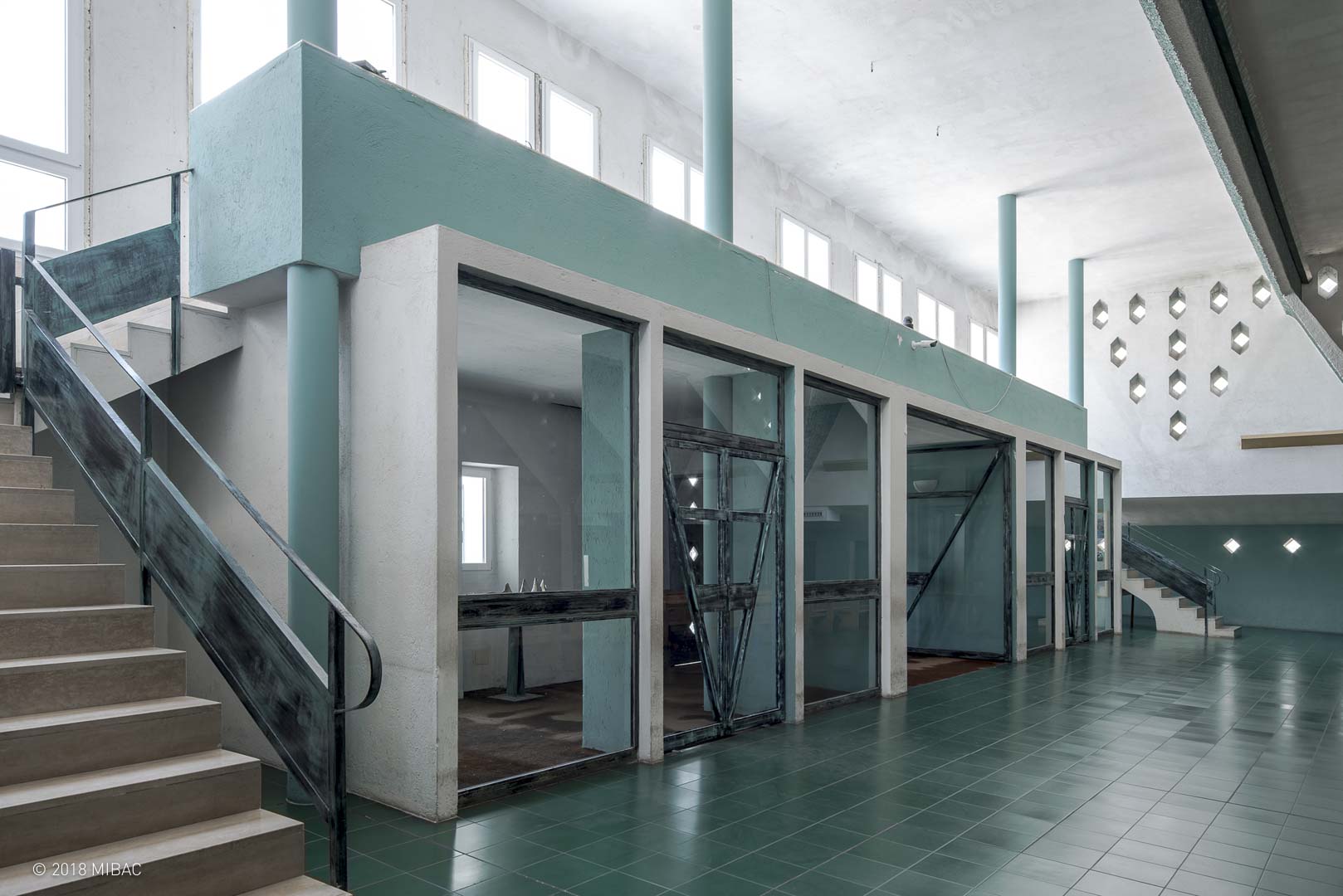 The church entrance is through a compressed space that gives access to the nave, a reinterpretation of the narthex as a filter between the city and the assembly. Above it, internally, the choir space is placed.
The interior space is characterized by the alternation between green-plastered and white-plastered elements: the side walls, roof beams, floor and decorations of seats and stands are green to signal their depth and plastic articulation, which is also highlighted by the contrast between shade and light.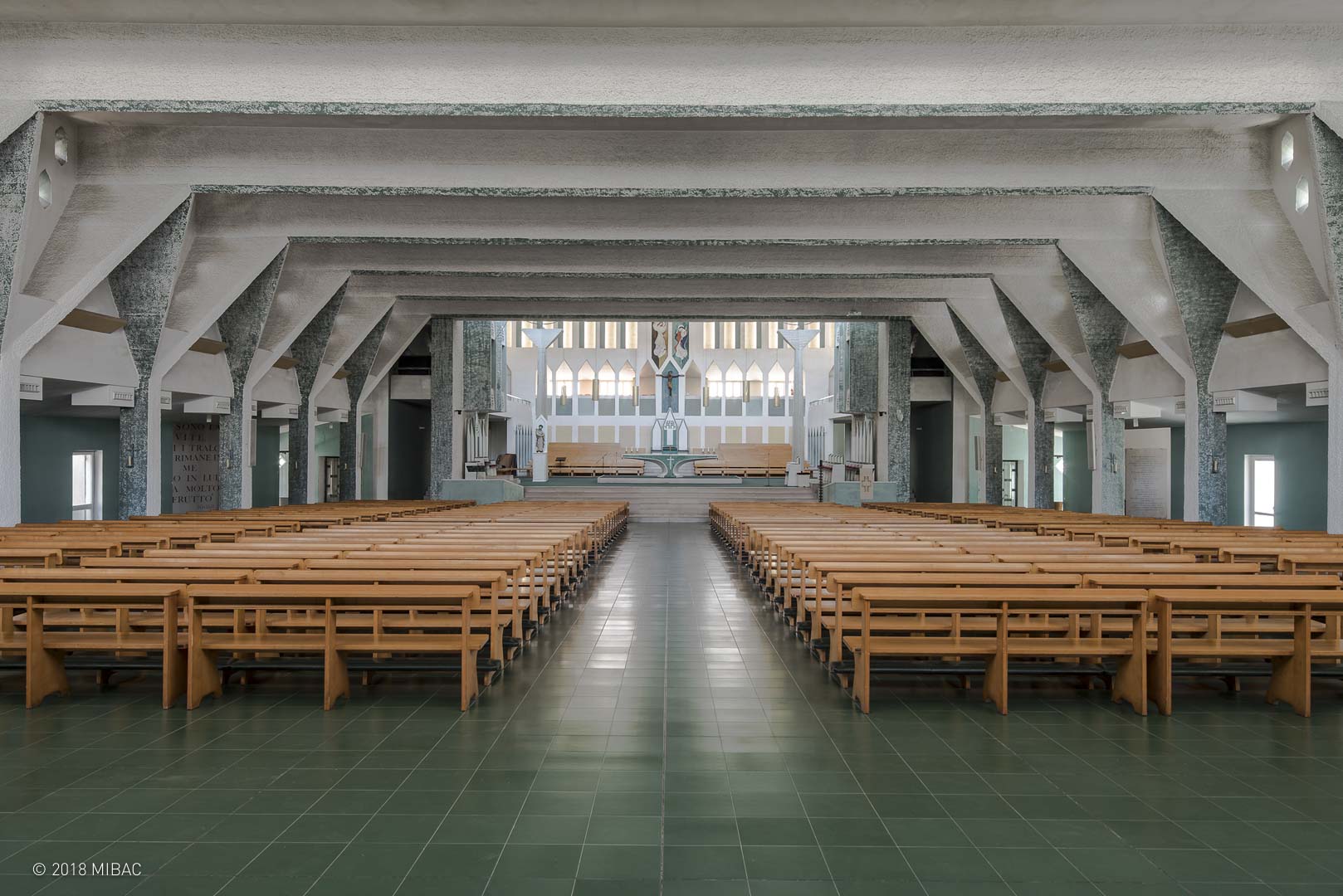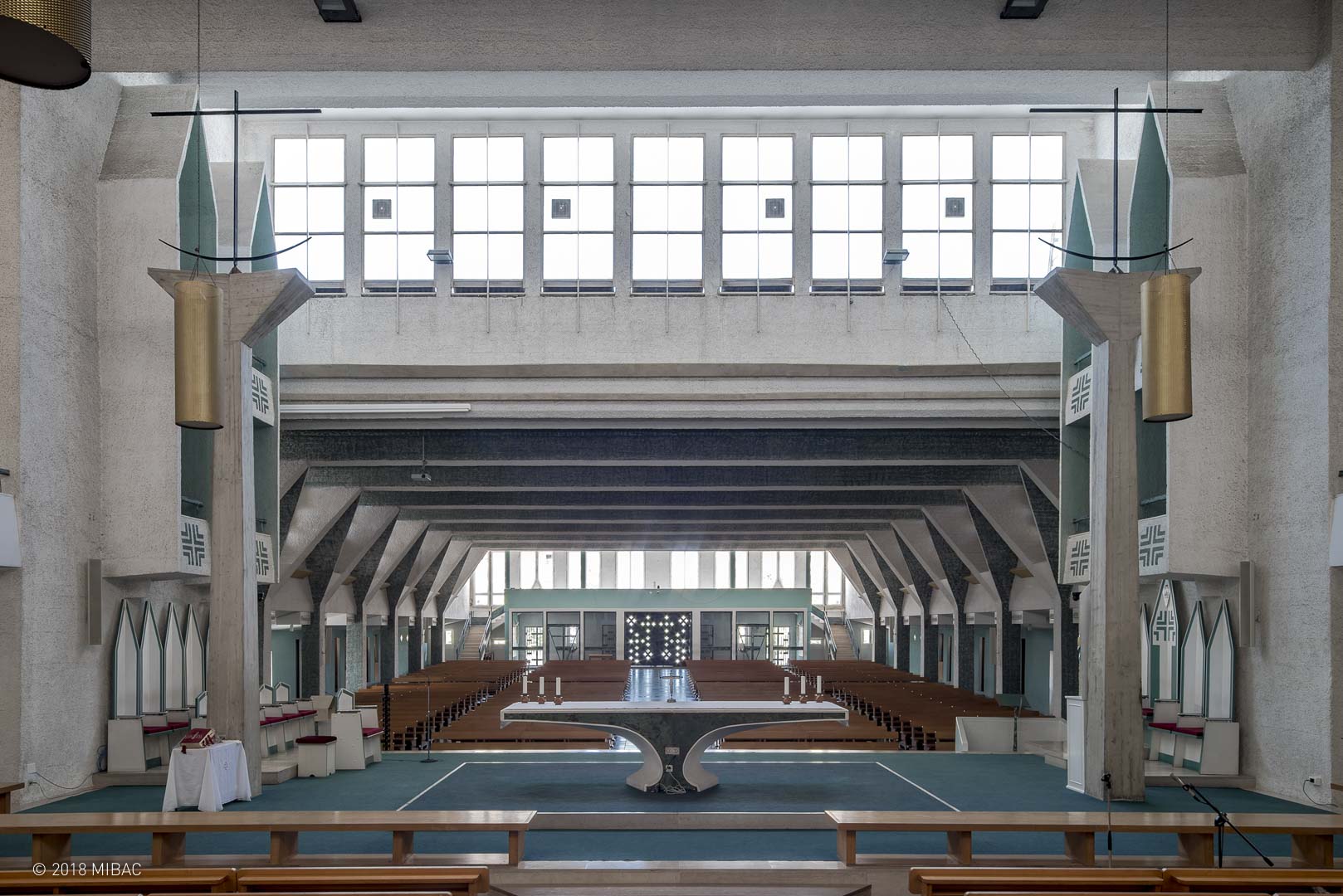 The nave is 8 meters high at the entrance, but the roof rises progressively until reaching 11 meters at the tiburium, which in this way is flooded with light.
The altar is placed in an advanced position at two thirds of the nave in order to receive the faithful. On the left are the seats for the prelates and the bishopric and on the right are the canons' seats.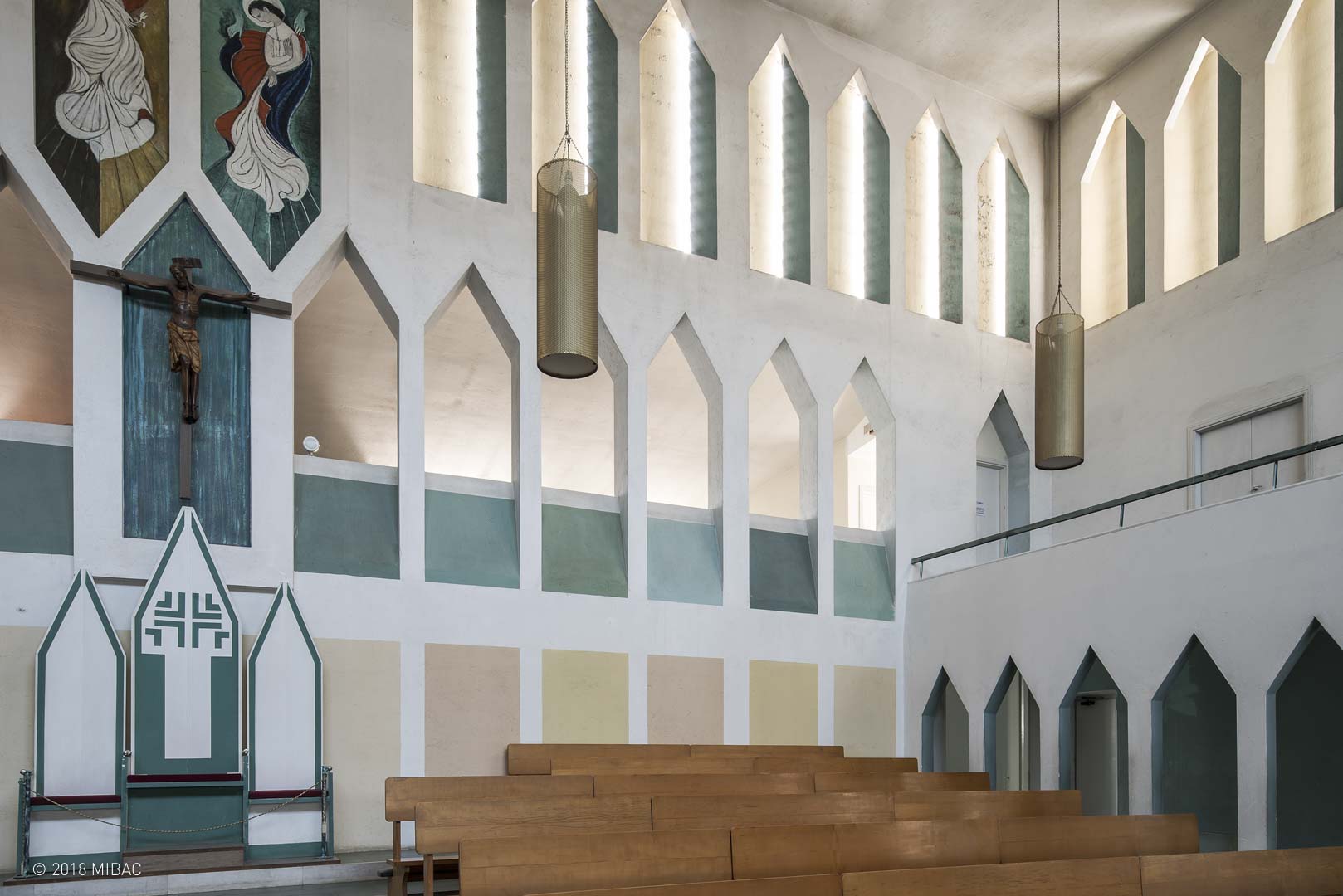 The wall behind the altar is defined by a double order of openings; in the middle two panels depict the Virgin and the archangel Gabriel.
Text Gianpaola Spirito
Photos by Alessandro Lanzetta