Place: Giudecca island, Venice
Authors: Cino Zucchi
Chronology: 1995 | 2003
Itinerary: Building houses, making cities
Use: Residential neighborhood
In the center of the Giudecca island in Venice, an abandoned industrial site is transformed into a residential area. Cino Zucchi, winner in 1995 of a competition for the transformation of the former Junghans factory, a German company that produced watches, then reconverted into a factory of war devices. He drafted the master plan and designed five variations on the theme of living. A part of the new housing was destined for a university residence, while the other part was sold on the free market.
The intervention takes the existing micro-fabric, modifying it substantially through different volumes, a new canal and a new dock, but the plot of the routes is created with typically Venetian space sequences: streets, courtyards, canals, public and private gardens renew the relationship with the context. The architectures, on the other hand, express their experimental and contemporary character within this reaffirmed continuity with the urban space.
The old industrial structure overlooking the Junghans courtyard (building A2-A3) is converted into residential use with commercial spaces on the ground floor protected by a copper roof. Building D is a new building block for sixteen associated building apartments that preserve the pre-existence of the chimney. The façades have irregular openings matching the graphic pattern of the white frames.
The G1 and G2 blocks, covered in brick and marked by full-height niches along the streets, overlook two canals thanks to a common garden, "mediated" by small enclosed private gardens. The elevations on the internal garden have overlapping loggias in metal and wood that recall the wooden constructions of the fishermen and the Venetian rooftop loggias.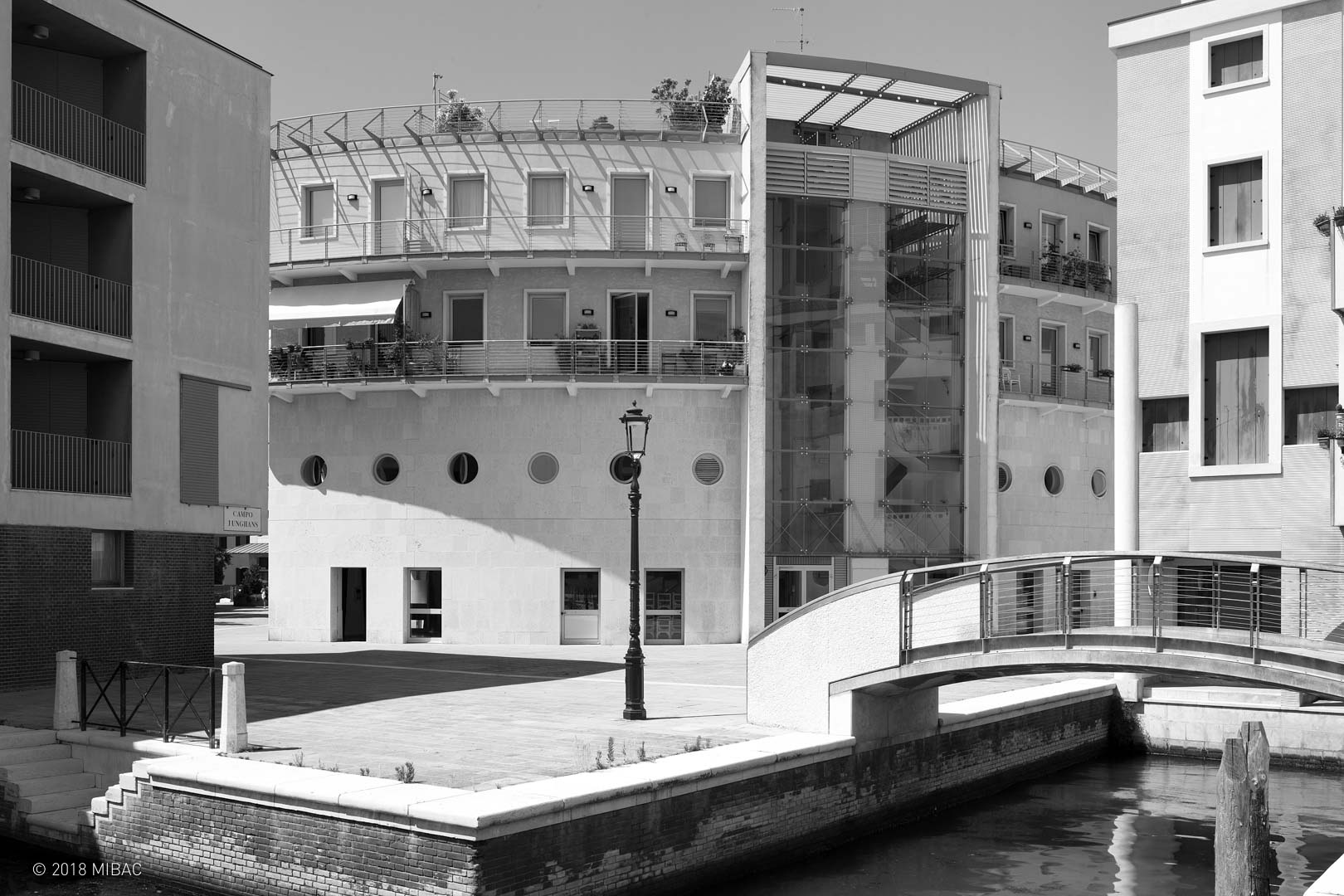 Building E1 defines the channel and the new square design. With porticoes on the ground floor, it is covered in stone of different color and texture and has an overhanging slab on the roof that helps to frame the view of the lagoon to the south.
The opposite side of the E1 block, on the new dock, is simpler and rests on portals at ground level that accentuate the permeability between the canal and the Junghans courtyard with the school garden.
Text by Luca Reale
Photos by Marco Introini