Place: Catena di Villorba, Lancenigo district (TV), Via Postioma, 54/F
Authors: Tadao Ando Architects & Associates, Benetton Group S.p.A.
Chronology: 1994 | 2000
Restoration and expansion of a Venetian villa
Itinerary: An hard-working country
Use: Research center for communication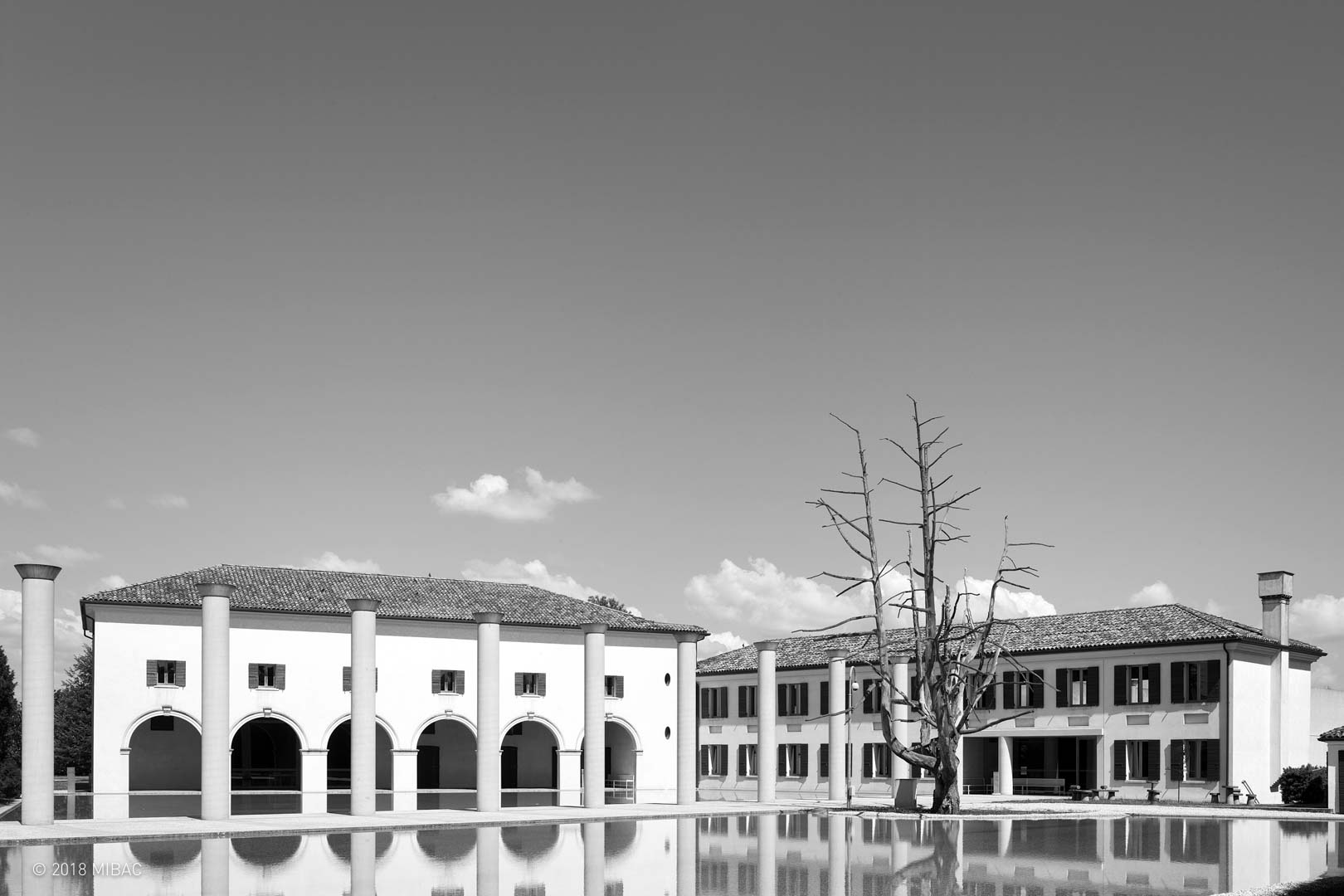 The Benetton Group is an Italian textile company founded in 1965 by Luciano, Gilberto, Giuliana and Carlo Benetton, based in Ponzano Veneto in the Province of Treviso. It is a clothing manufacturer with its own worldwide franchising network. In 1994, the "Fabrica", the group's center for research on communication, was founded on the initiative of Luciano Benetton and Oliviero Toscani, with headquarters at Villa Pastega Manera in Catena di Villorba (Treviso). The complex was immersed in the Venetian landscape and included the eighteenth-century building restored and enlarged according to a project by Tadao Ando, winner of the Pritzker Prize. The idea underlying the design involves the creation of a dynamic, innovative center, offering a glimpse of the future from the Veneto landscape, a place full of charm.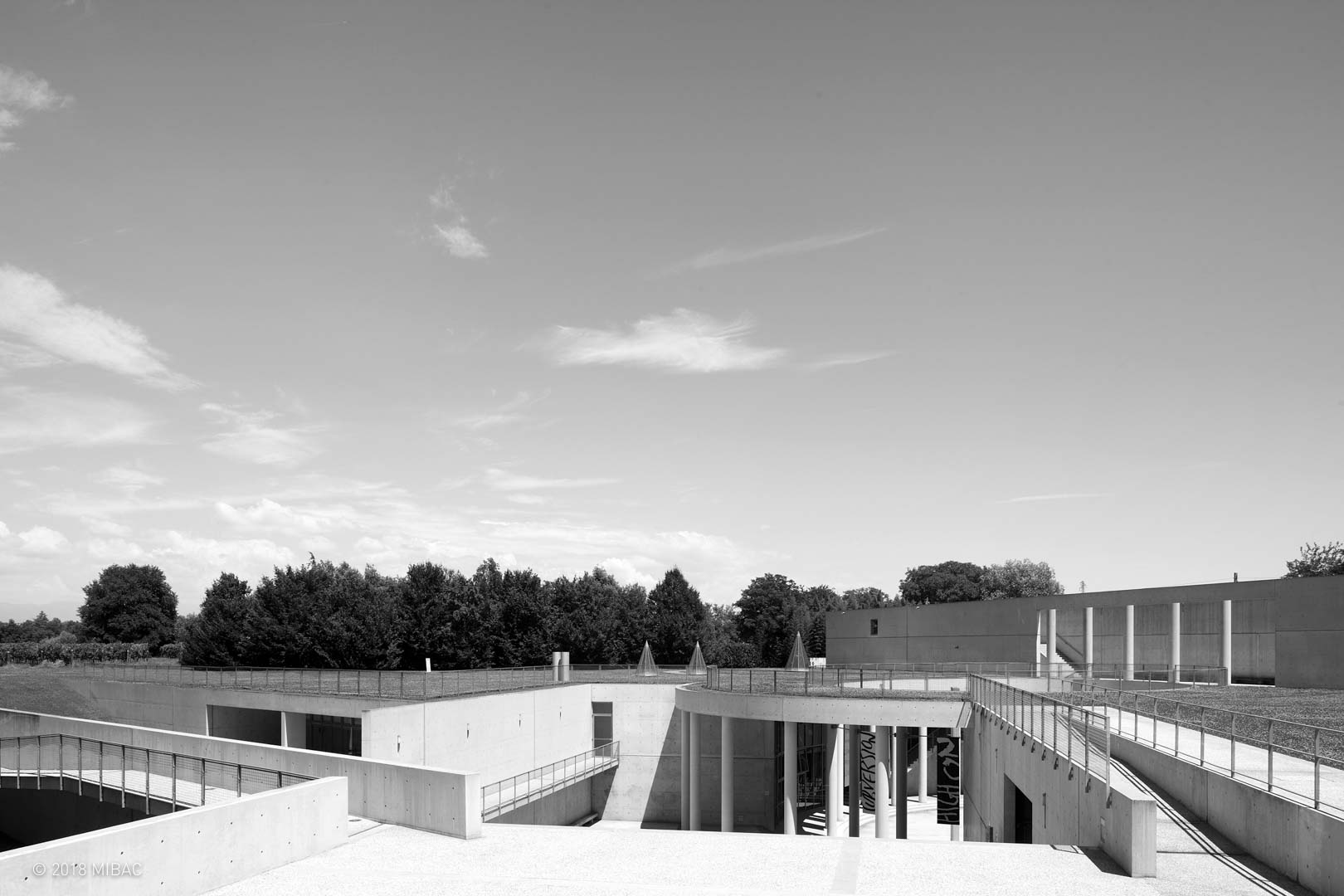 Tadao Ando, always attentive to a critical and meditated use of materials and shapes, was assigned the task of giving life to a space that could merge with the project's site in full harmony. The space is divided into two straight paths: the first one leads the observer down a series of stairways from the ground level to the underground elliptical space, where it intersects with the second straight path, characterized by a long sequence of reinforced concrete columns surmounted by truncated cone capitals.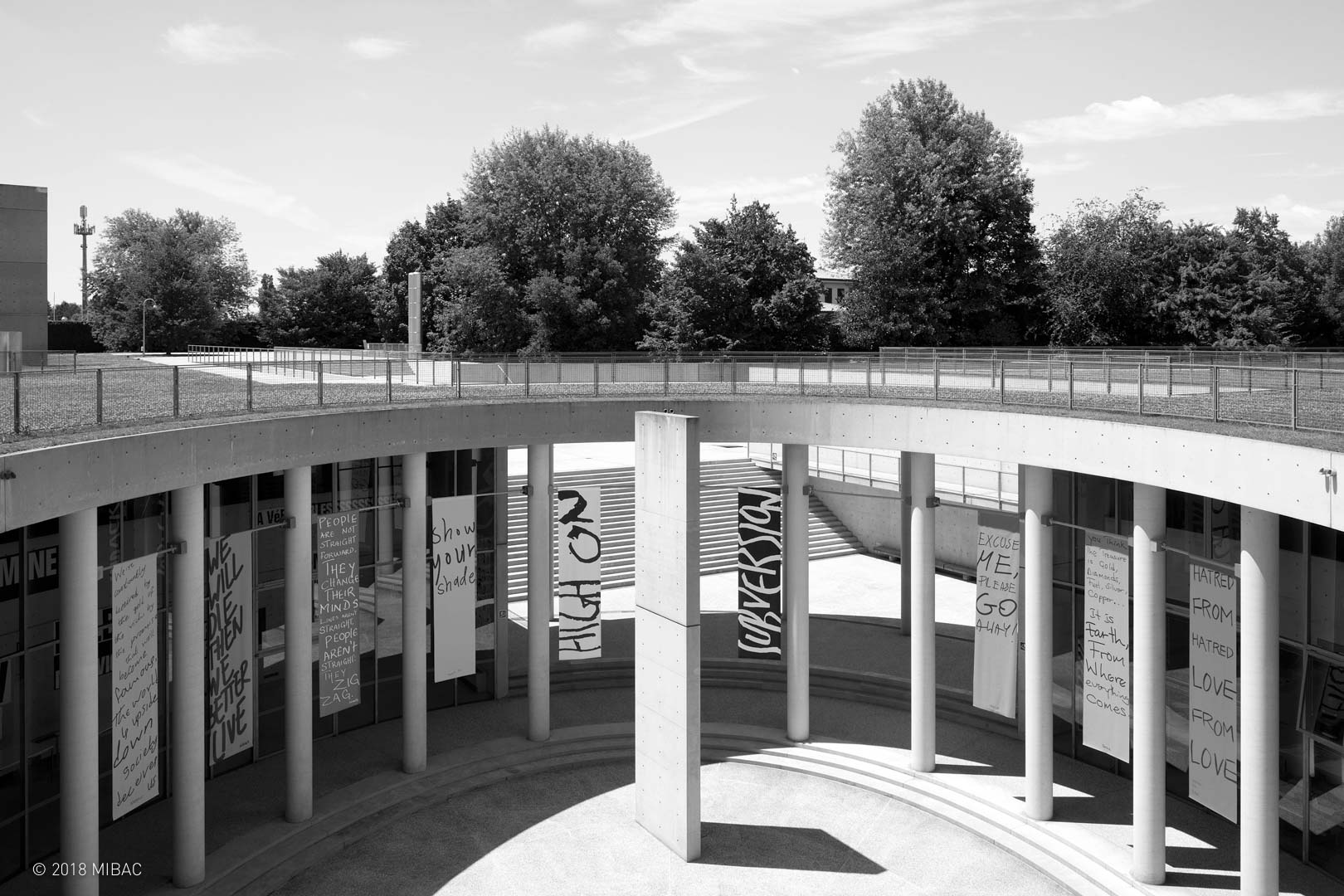 The elliptical space is the heart of the design, a place uniting different ideas and disciplines, from arts to photography, from fashion to interior design. Placed eight meters below the ground level, the columns' constant rhythm marks a ring-shaped path overlooked by large windows closing the distribution spaces. From there, it is possible to reach the study rooms, laboratories, offices, and facilities such as the library and the auditorium, the cinema hall, and dining areas.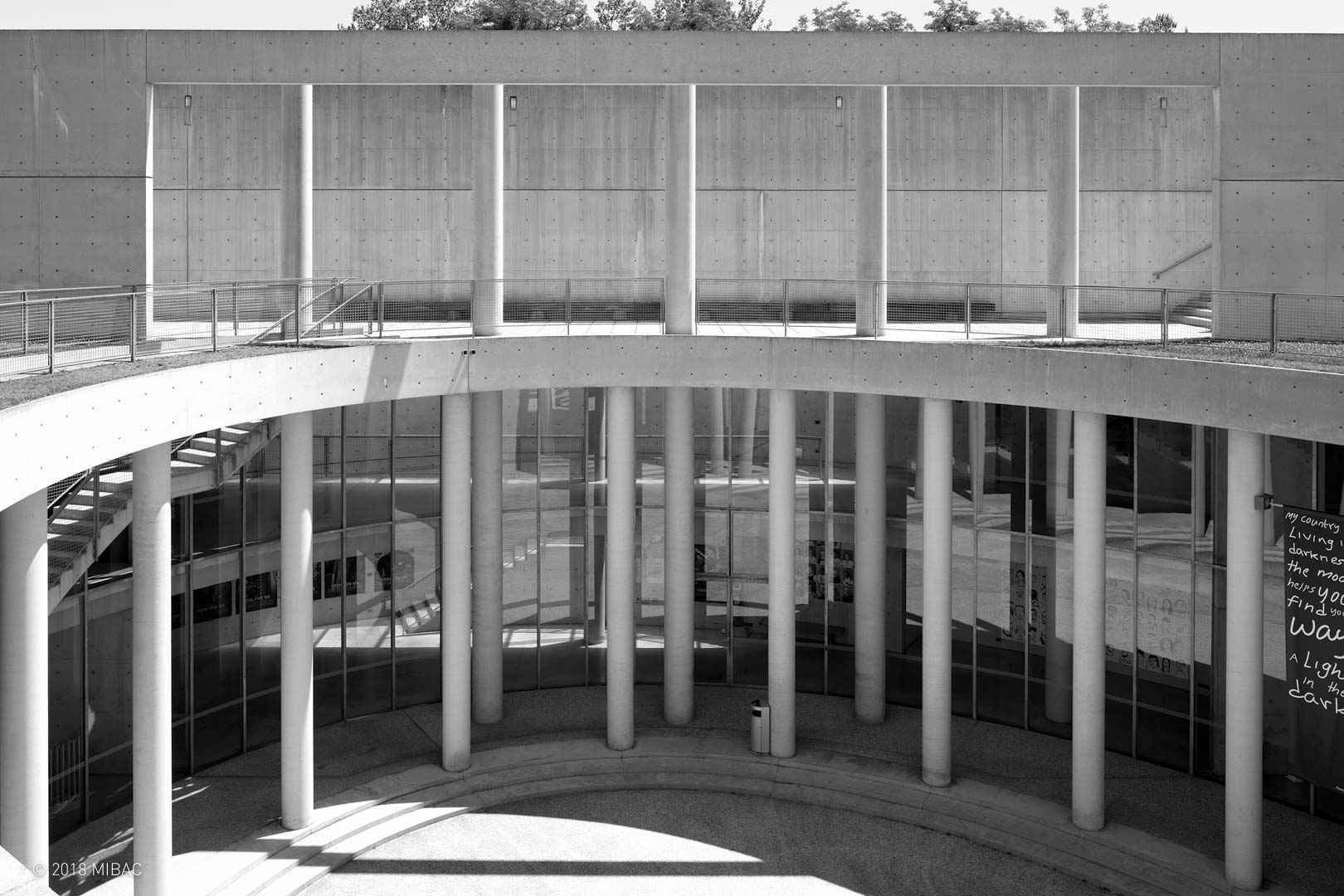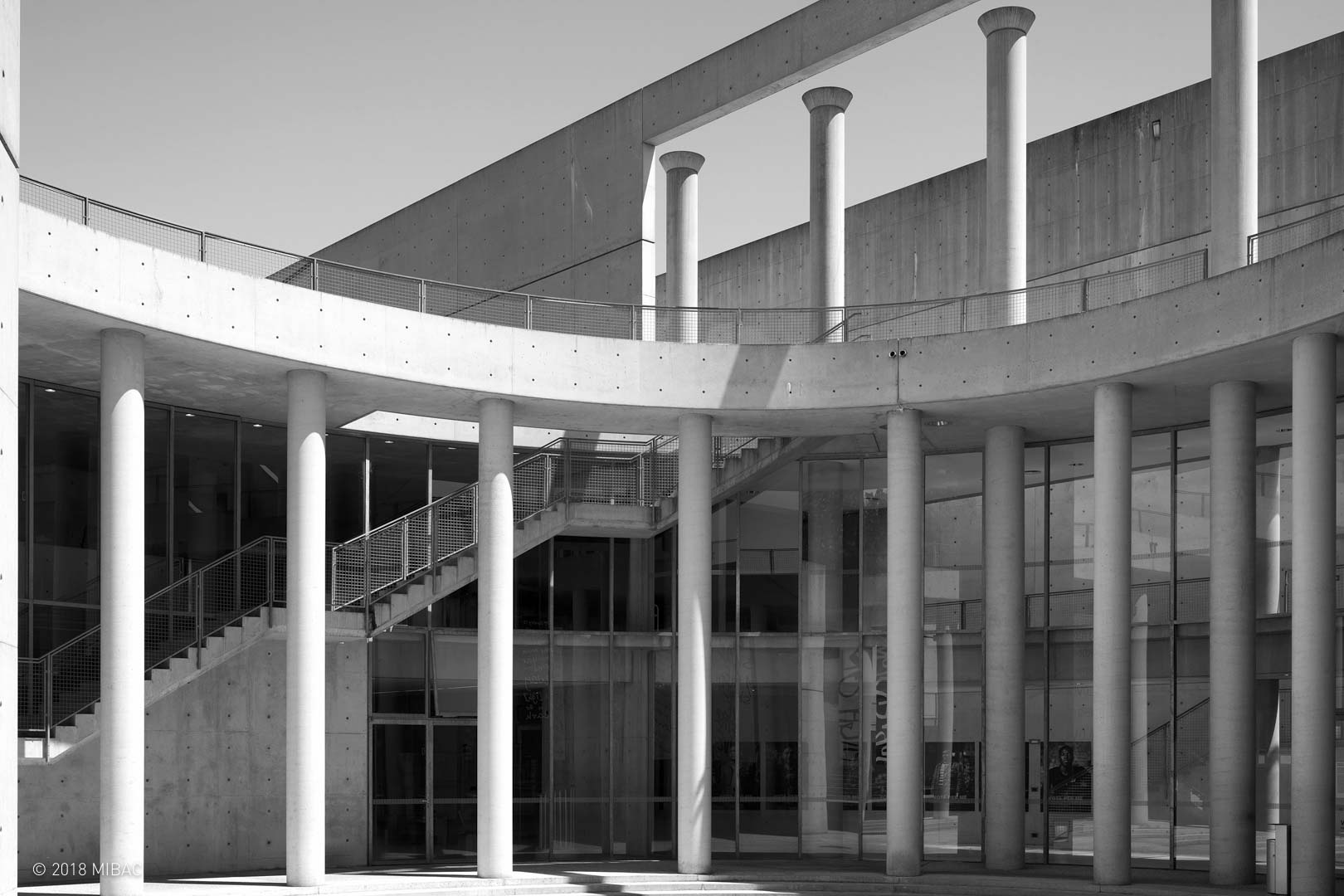 The project is characterized by the prevailing use of exposed concrete, with compact surfaces showing visible formwork marks, according to one of Ando's usual practices. The large windows' galvanized steel profiles mark a regular and measured score. Clear and essential geometries give life to sequences of elements, calibrated and harmonious in themselves and in their context. Light and air, just like nature and tradition, become project materials.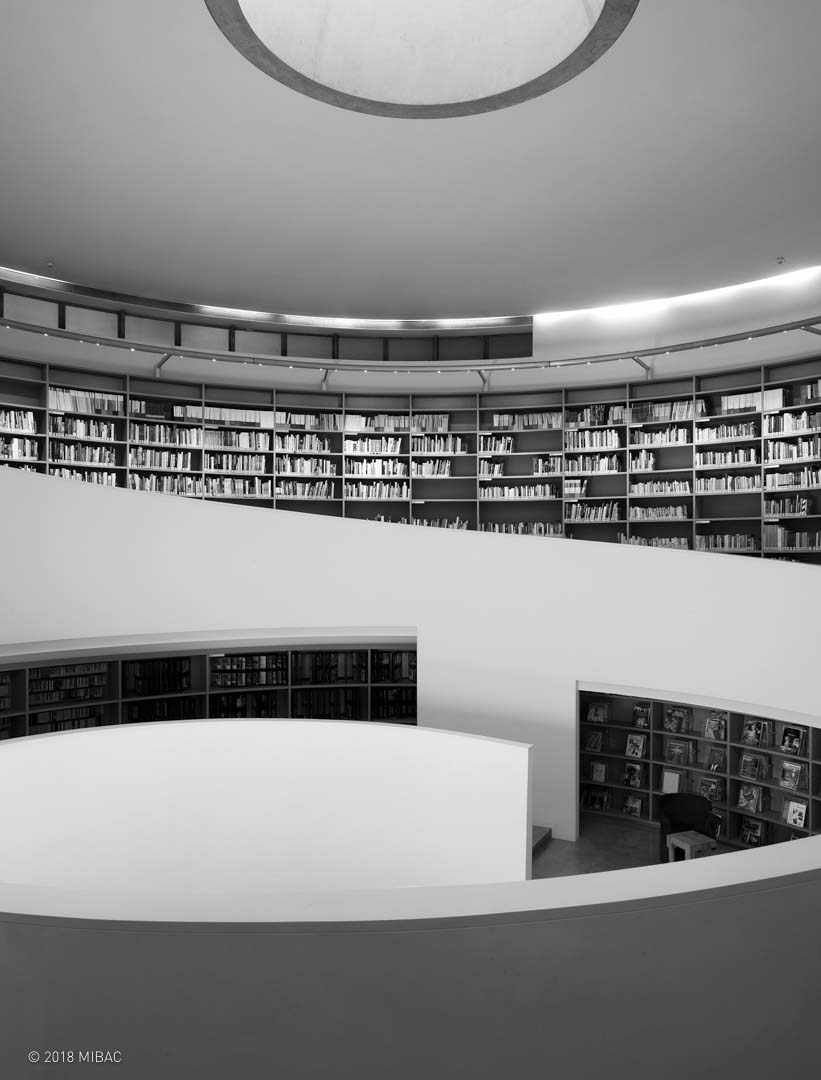 The library embodies the project's devotion to studying and the sharing of knowledge: a concentric succession of curvilinear stairs forms a dynamic space, interspersed with hidden rest areas, surmounted by a circular window from which the diffused and rarefied light spreads poetically on curved shelves and isolated tables.
Text by Manuela Raitano
Photo Marco Introini