Place: Turin, Via Nizza
Authors: Giacomo Matté Trucco, RPBW – Renzo Piano Building Workshop
Chronology: 1915 | 1922 (realization); 1983 | 2003 (restoration and extention)
Itinerary: An hard-working country
Use: Industrial plant, now reused as multifunctional center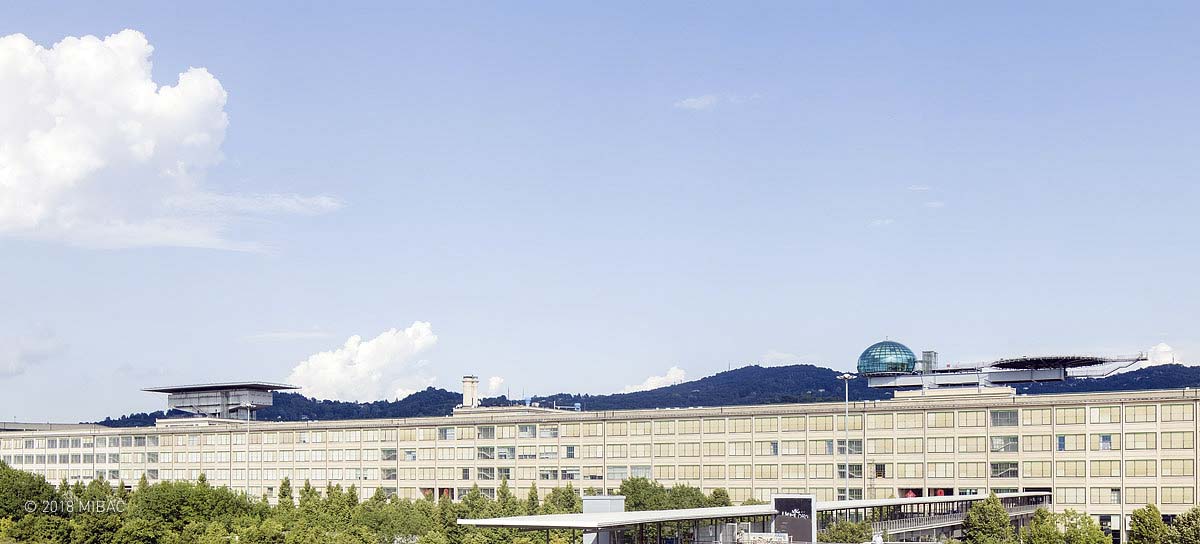 The Fabbrica Italiana Automobili Torino (FIAT) is a symbol of Italian development, the industry that, more than any other, contributed to our country's modernization. The factory, built in Turin by Giacomo Mattè Trucco starting from 1933 and symbolically inaugurated on May 1, 1939, came to the fore as one of Europe's most advanced examples of early twentieth-century industrial architecture. Over 500 meters long, the audacious building is divided into 4 courts and surmounted by a test track for testing prototypes produced on site. The plant remained in operation until 1982, when FIAT decided to stop production at its historic headquarters. The next year, following an international consultation aimed at studying the reuse of the huge structure, the design task was entrusted to Renzo Piano.
Piano's project places a complex system of functions and integrated public spaces in the Trucco building. Overall, the designs of the Auditorium (partially underground up to 10 meters deep), the "casket" and the so-called "bubble" stand out: the latter are two volumes placed on the roof test track, connoting the building's long horizontal development.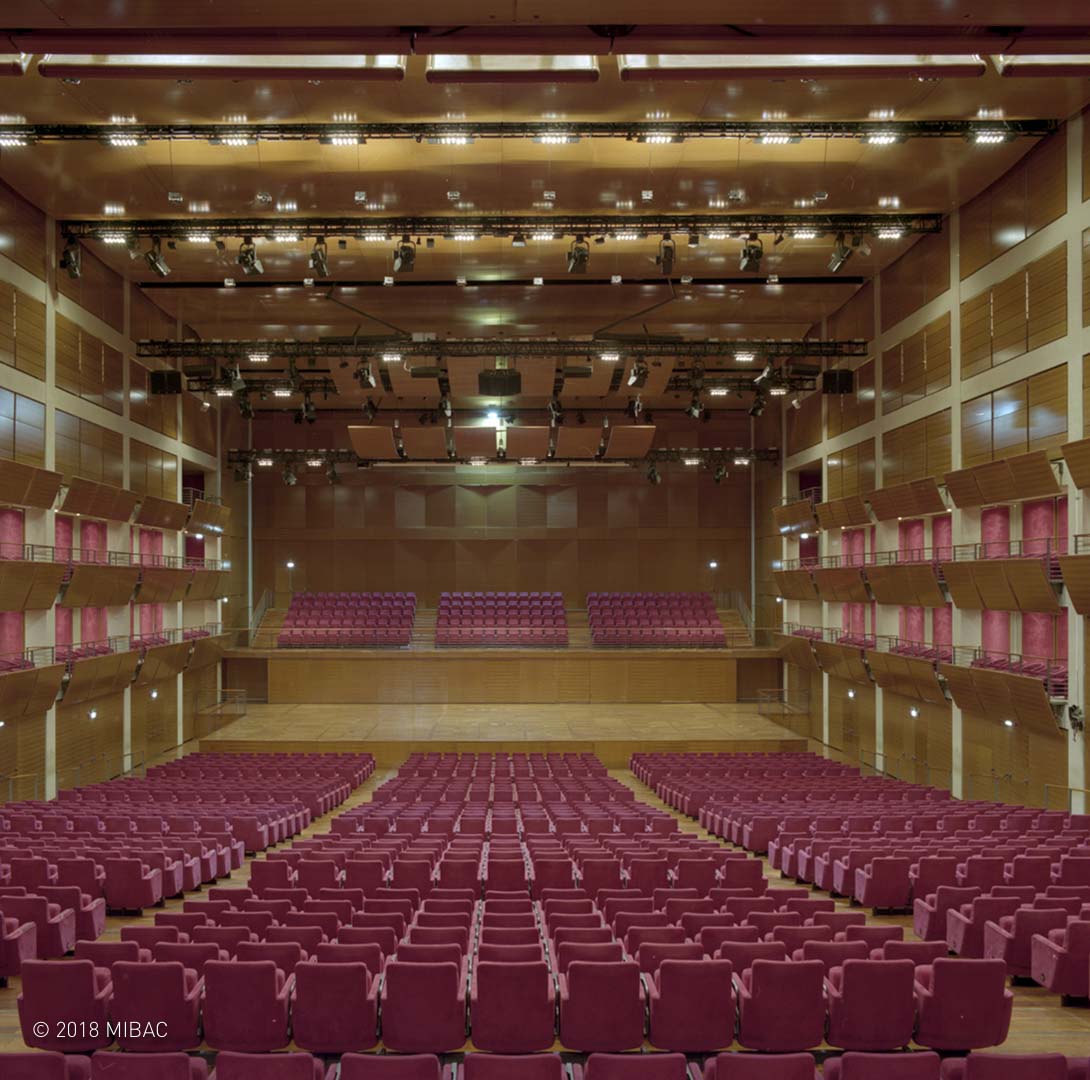 The "Gianni Agnelli" Auditorium is currently one of Turin's main concert venues. Inaugurated in 1994, it can assume a variable configuration through mobile walls, changing from a minimum of 500 seats to a maximum of about 2,000. Consequently, the sound reverberation time can also vary, allowing the concert hall to offer excellent acoustics both for symphonic music and meeting use.
The "Giovanni and Marella Agnelli" Art Museum hosts a rich permanent collection with works from the 18th, 19th and 20th centuries. Part of the collection is placed in a volume set on the roof of the building, called "the casket"; it is located antipolar to the other great architectural object designed by Piano, the "bubble".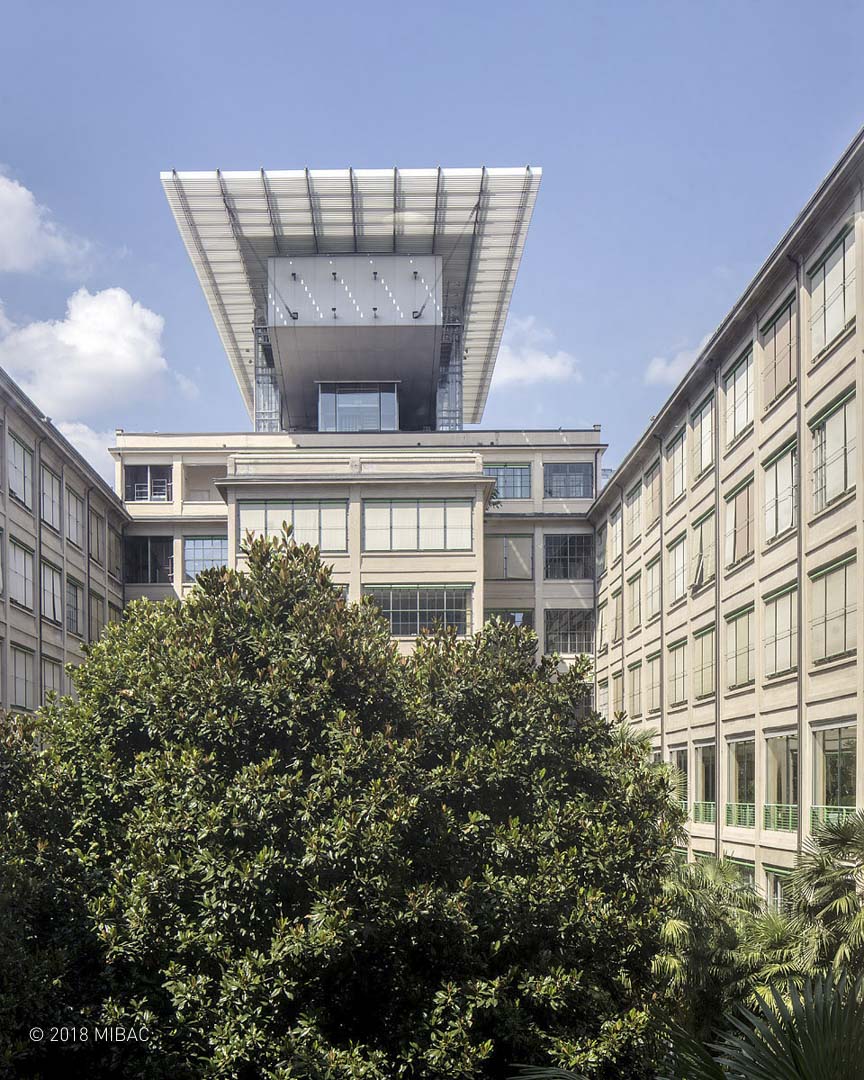 The "casket" is suspended on the transverse arm that divides the first two courts to the north, aligned with the layout of the façade underneath, and faces the green space below. 
Inaugurated in 2002, "the casket" houses 25 works of art from the founders' personal collection, including paintings by Canaletto, Manet, Renoir and Matisse, as well as two plaster statues by Canova.
The "bubble", like the Auditorium, was also finished in 1994. It rests on a thick steel beam that supports the heliport's circular platform on the other end. It houses a large meeting room with an impressive view of the Western Alps.
The futuristic objects Piano designed are well-integrated with the concept, also innovative, of the Trucco building, triggering an interesting contrast between the city of Turin and these strange presences, suspended between the ridge line of the long building and the sky.
Text by Manuela Raitano
Photo Altrospazio and Emanuele Piccardo