Place: Gibellina Nuova (TP), contrada Salinella, località Baglio di Stefano, 1
Authors: Marcella Aprile, Roberto Collovà, Teresa la Rocca
Chronology: 1982 | 1999
Itinerary: Treasure hunt
Use: Musem
Baglio Di Stefano was originally a large fortified farm. The architectural structure, typical of Trapani's agricultural landscape, was defined by a group of buildings dominated by the manor house, located between two courtyards. The Baglio lost its original use and fell into neglect. Its condition worsened following the earthquake of 1968. In 1982, the City purchased it for restoration and transformed it into the headquarters of the Orestiadi Foundation, placing there the Museum of Mediterranean Fabric. By then, only parts of the manor house and the grain warehouse had remained standing. The architects restored the original structures and reconstructed the missing parts. The new additions are easily identifiable by their different construction systems.
The change in the Baglio's use, from a farm to a public building for cultural activities, led the designers to open the south-east side of the main courtyard towards the countryside and transform it into an outdoor exhibition space. Cultural activities take place there, including the Orestiadi festival, the annual international event that hosts theatrical, musical and visual arts events. Here is placed Mimmo Paladino's great sculpture, called "The Mountain of Salt".
The Mediterranean Fabric Museum was inaugurated in 1996 and hosted in the manor house. There, decorative art objects, costumes, jewels, fabrics, ceramics and objects of art of peoples and cultures of the Mediterranean area are exhibited. The restored granary holds the collection of the contemporary art museum.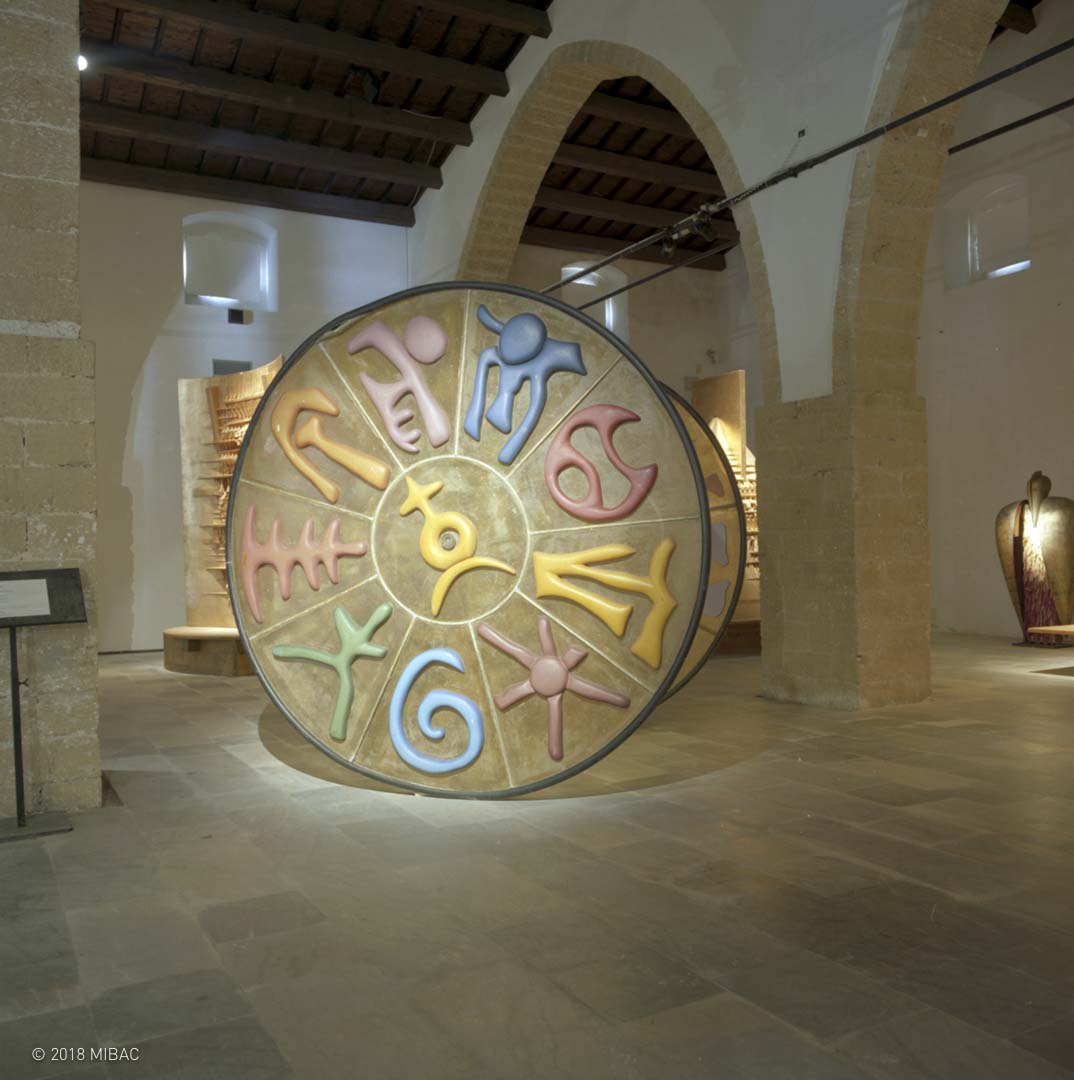 The granary is a vast space characterized by stone arches that support a wooden roof. This space exhibits contemporary works by artists such as Mario Schifano, Carla Accardi, Pietro Consagra, and Richard Long. It also displays the stage machines and sketches for the preparation of the Orestiadi.
Text Gianpaola Spirito
Photos by Emanuele Piccardo