Place: Venice, Dorsoduro 2, Fondamenta della Salute
Authors: Tadao Ando Architect & Associates
Chronology: 2007 | 2009
Itinerary:  Treasure hunt
Use: Museum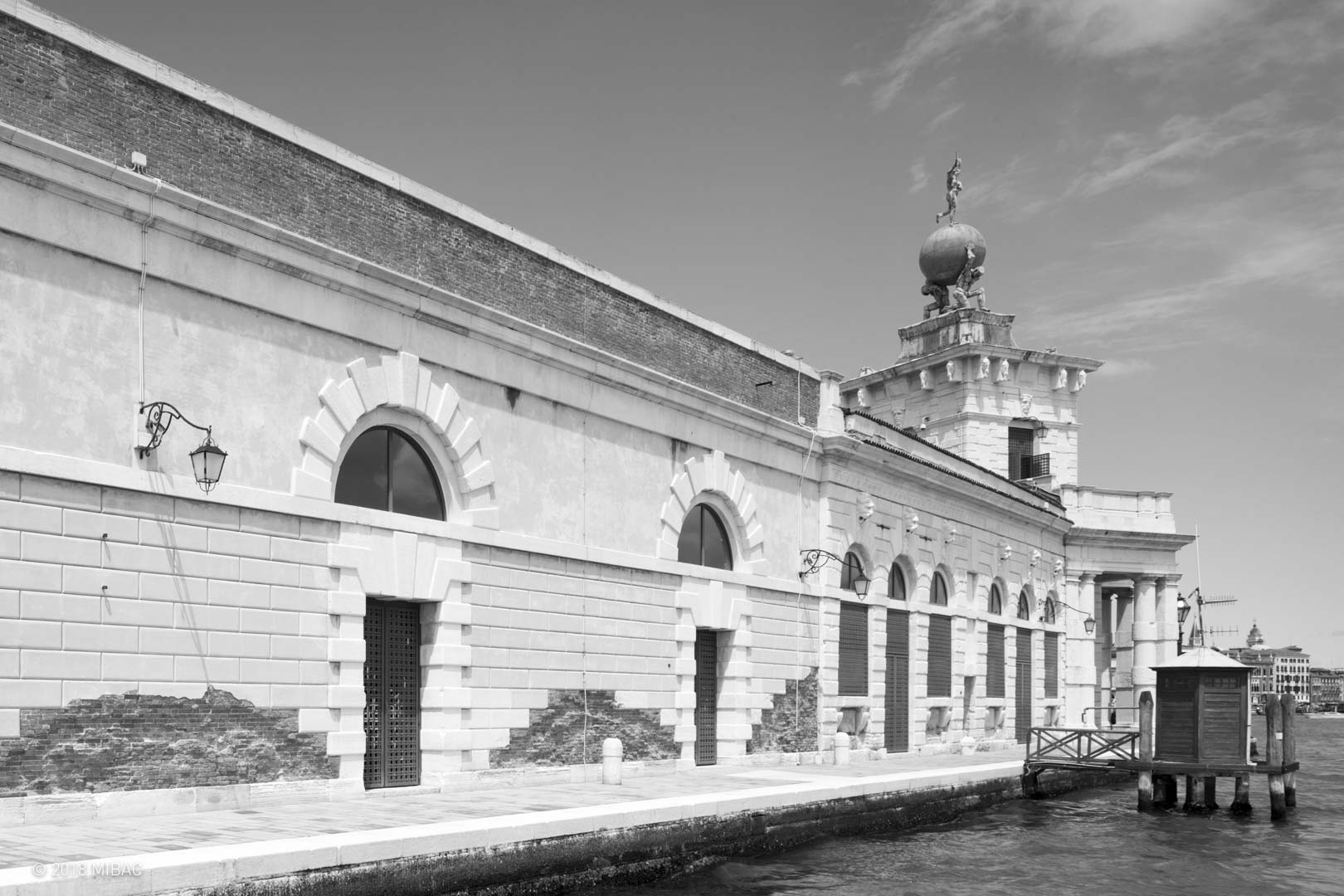 In 2005, the François Pinault Foundation, which owns one of the most important private contemporary art collections in the world, bought the Palazzo Grassi complex. This was an eighteenth-century building overlooking the Grand Canal that had already been adapted to the Gae Aulenti Art Gallery in 1985. Its restructuring was entrusted to Tadao Ando. The following year, the City of Venice announced a tender for the transformation of what was once the Serenissima Customs House into an Art Centre. The competition was won by Pinault with a design also signed by Tadao Ando. Today, the new exhibition spaces, inaugurated in 2009, with Palazzo Grassi, constitute the distinctive places of Pinault collection.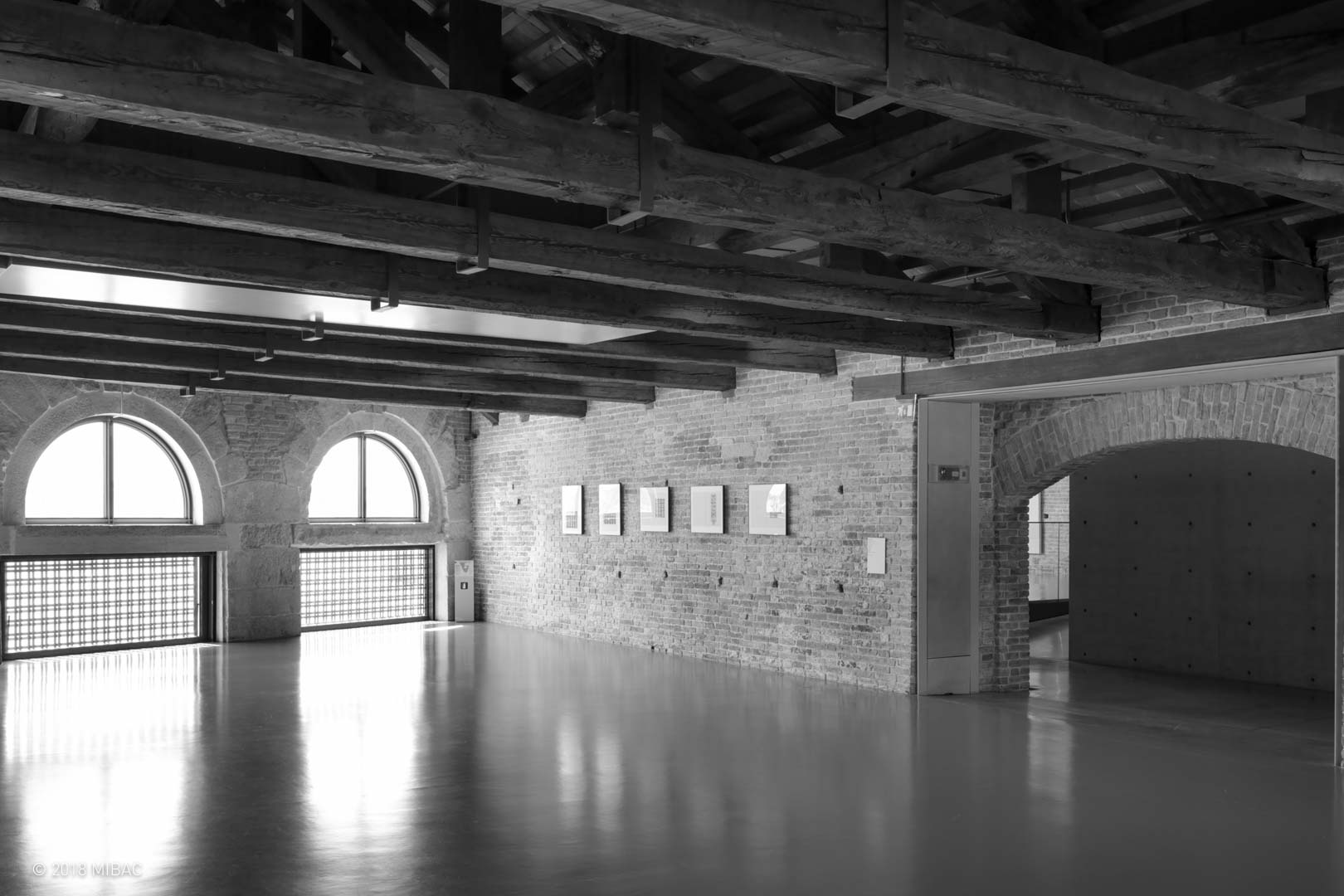 The Punta della Dogana complex is a triangular-shaped building between the Grand Canal and the Giudecca Canal. It had long been totally abandoned and therefore in a state of considerable decay. Its plant consists of a sequence of eight structural spans, defined by masonry walls, which run parallel to the base of the isosceles triangle on which the plant is set; the roofs are mainly supported by wooden trusses that follow each other in a very tight rhythm.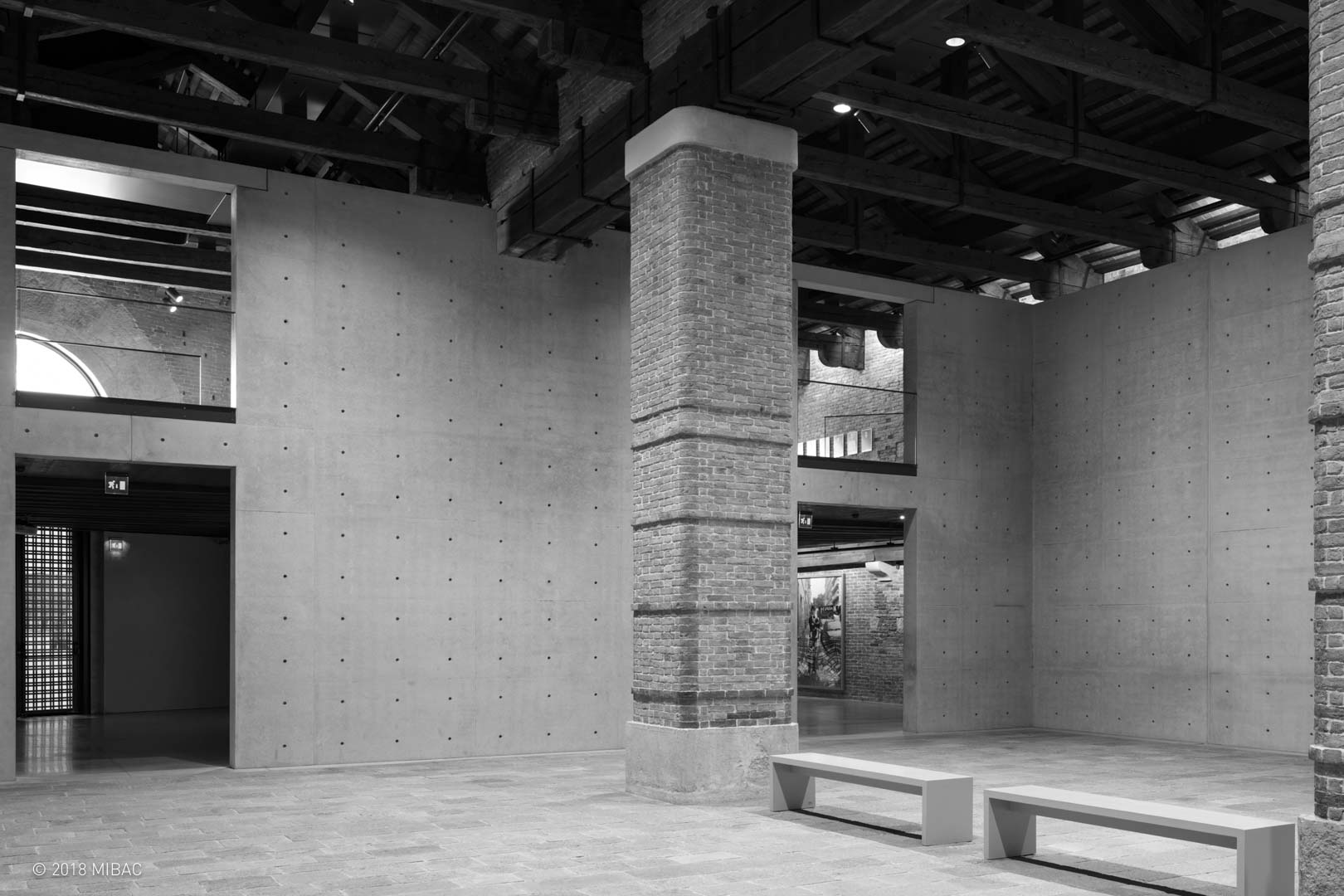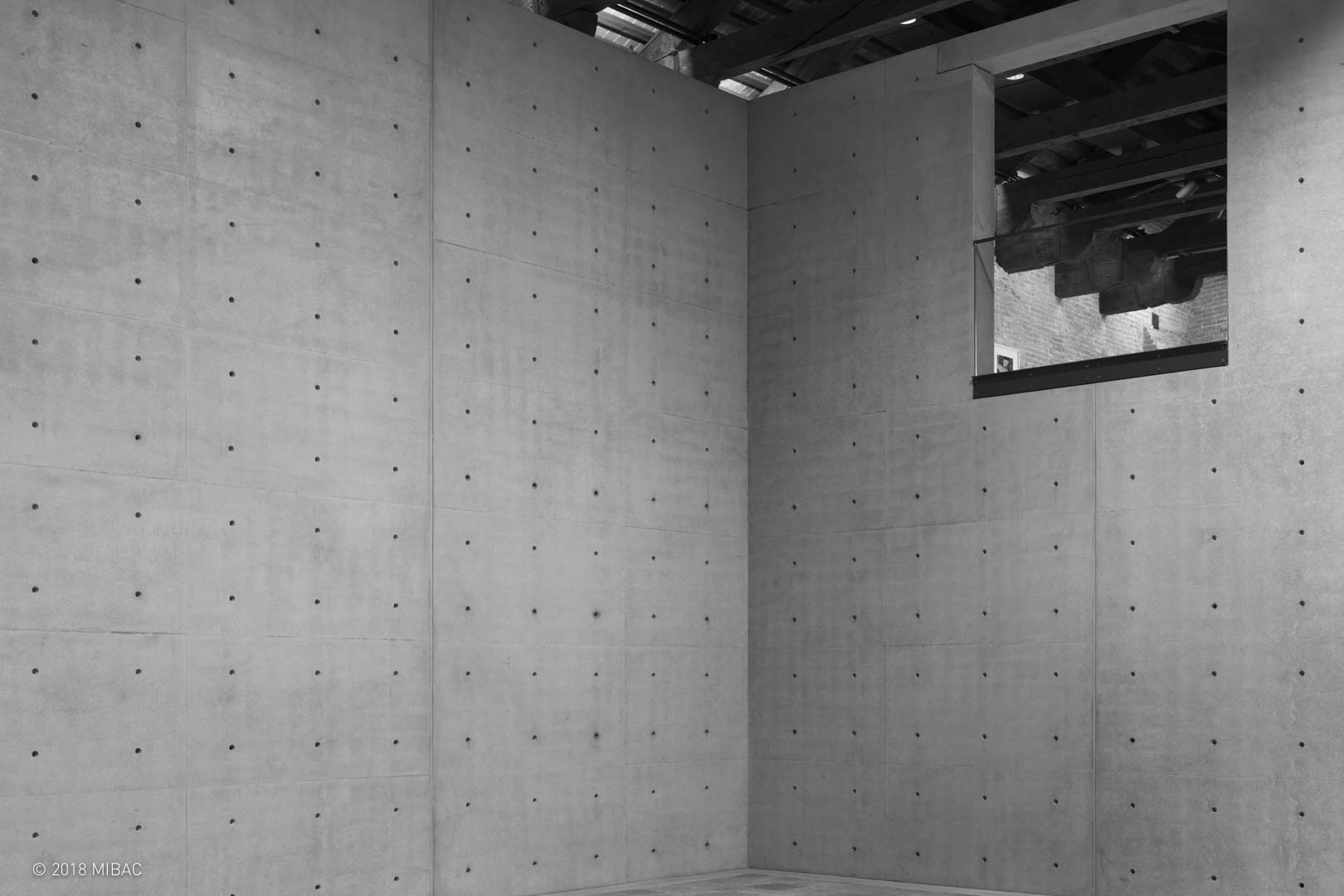 The project preserves the characteristic serial system of the warehouses but introduces in a barycentric position a full-height volume with a square base of polished reinforced concrete (one of the stylistic figures of Tadao Ando's architecture) that draws a sort of cubical courtyard inside the building and serves as the fulcrum of the exhibition path.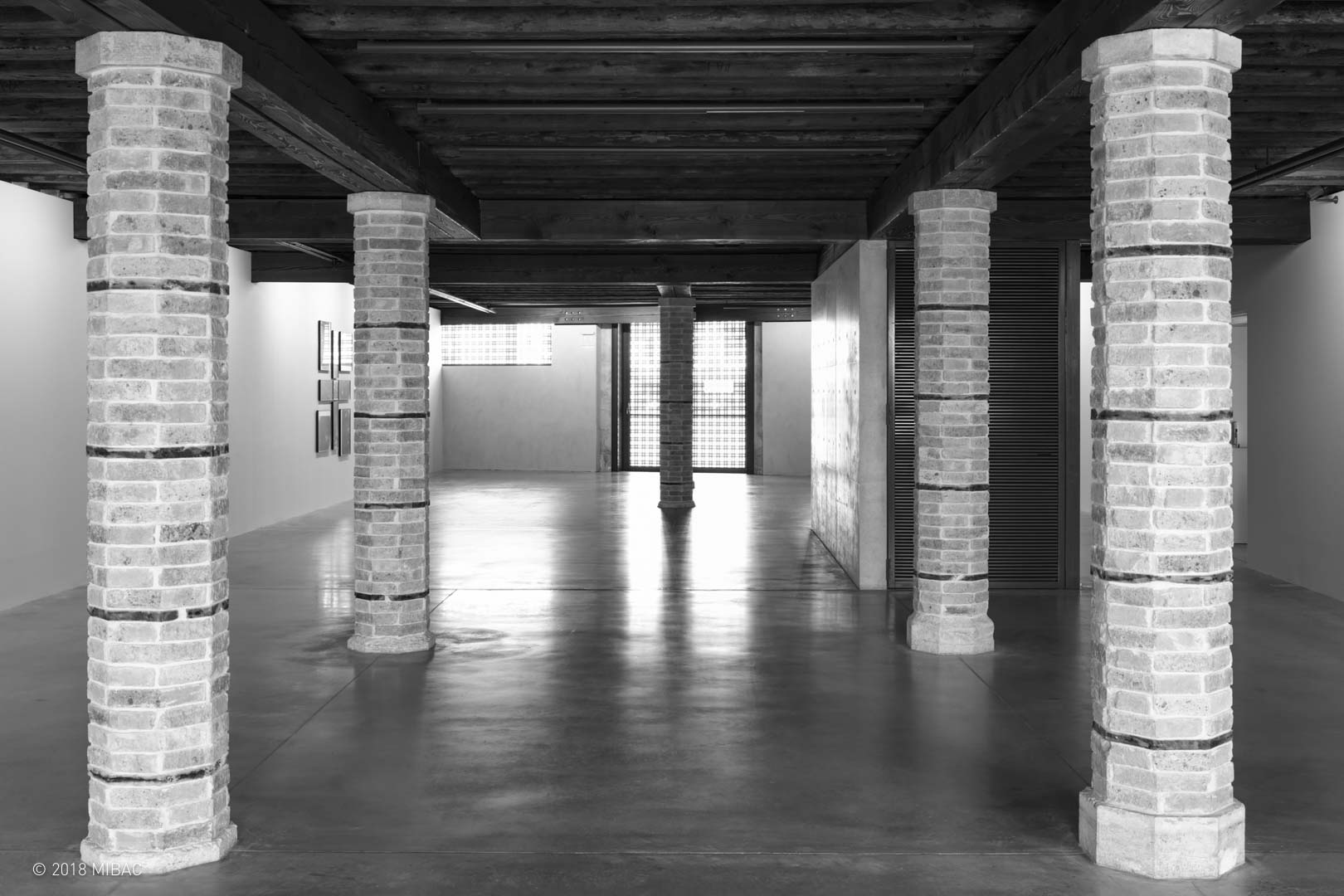 The exhibition route develops on two levels. It starts from the Campo di Santa Maria della Salute and heads perpendicularly to the sequence of the walls until reaching the cusp of the building on which the Tower of Fortuna rises with its characteristic golden sphere. The path's sinusoidal pattern opens only in correspondence with the large central courtyard, around which the stairs linking the two levels are located. The route alternately overlooks the Grand Canal and the Giudecca Canal, using the former openings of the Dogana's warehouses, the frames of which, in the lower part, explicitly refer to Carlo Scarpa's lesson.
Text by Francesca Castelli
Photos by Marco Introini